Gantry Crane – Mobile Material Handling
Gorbel's Fixed and Adjustable Height Steel Gantry Crane provide an economical way to lift materials anywhere in a facility. The wheels enable you to move the gantry crane around your facility. This is a more cost-effective lifting solution for areas of infrequent lifts vs. a more expensive permanent structure. Gorbel's heavy duty end frame design with square tubing uprights, knee braces and channel base provides for stable lifting and movement.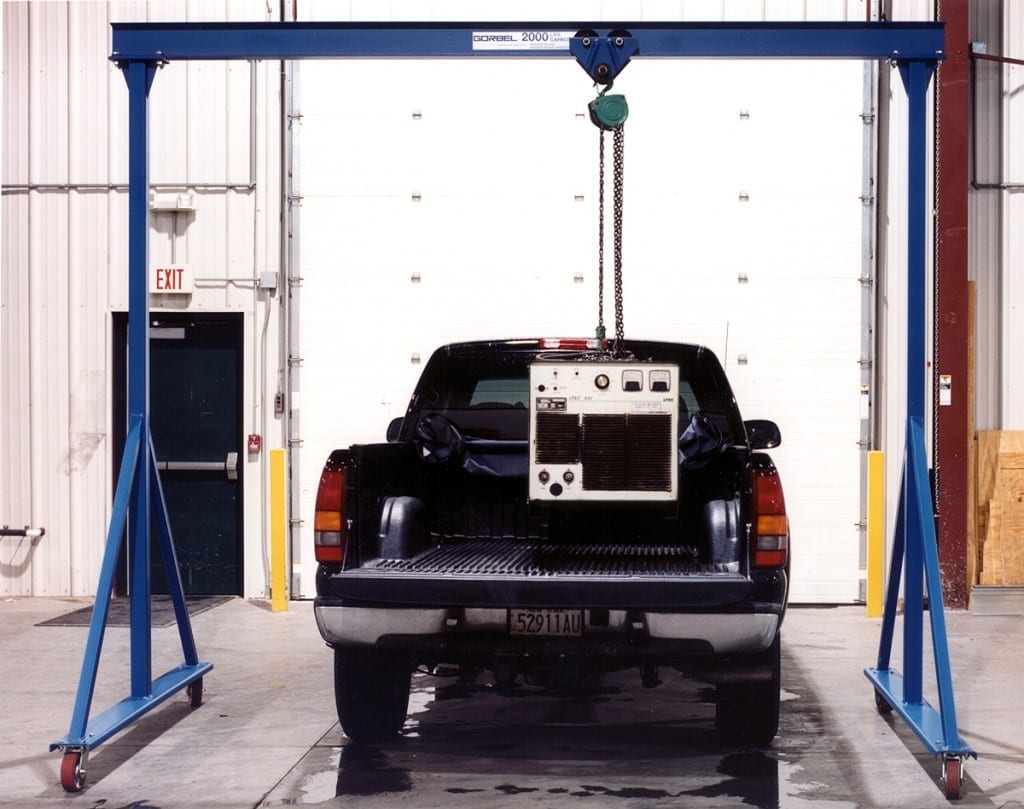 Why Choose a Gorbel Gantry Crane?
Ease of Movement
The non marking, durable phenolic casters provide low rolling resistance for easy movement.
The phenolic wheels roll smoothly, even over rough floor surfaces, and can withstand water, oil and most other chemicals.
An optional V-Groove caster and track is also available. More information on the V-groove track is below.
Safety
The bolted beam to upright connection ensures that beam does not dislodge.
Pre-engineered for use with powered hoists. A factor of 15% of the crane capacity is allowed for the hoist and trolley weight with an additional 25% of the capacity allowed for impact, thus giving  maximum capacity use of the crane. Therefore, if it's rated for 1000 lbs, it can safely lift 1000 lbs without having to worry about hoist weight or impact.
Adders and Optional Accessories for the Steel Gantry Crane
Casters — Molded phenolic casters with steel core's are standard on all Gorbel steel gantry cranes.
Options for 1-2 ton Gantry Crane
Urethane Casters with or without Cam Brake
Four Position Swivel Locks
Steel V-Groove Rigid Body
Steel V-Groove Rigid Body with Cam Brake
Options for 3-5 ton Gantry Crane
Urethane Casters with or without Cam Brake
Four Position Swivel Locks without Cam Brake
Steel V-Groove Rigid Body
End Stops
End stops are used to limit the travel of the trolley on the beam. They are available in spans of 8′, 10′, 12′, 15′, 20′, 25′, and 30′ for all standard designs.
Fixed Length V-Groove Track
Do you need your Gantry Crane to travel in a fixed path? With our fixed length V-Groove Track, your Gantry Crane will run in a straight line every time. Choose from our single pin (one aligning pin at one end and nothing on the other for mounting to another V-Groove track) or dual pin (aligning pins at both ends) tracks in standard lengths of 10′ or 20′.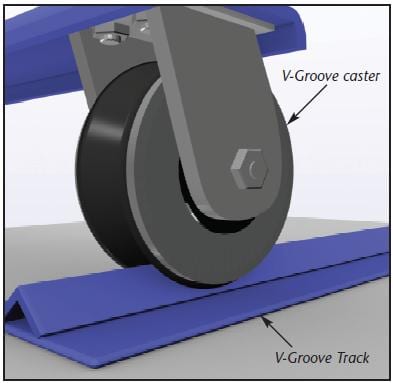 Aluminum Gantry Crane
A Lightweight, Adjustable, and Portable lifting solution

Lightweight
Made from lightweight extruded aluminum track, the components of the gantry crane are easily lifted by one person. This allows the crane to be shipped easily to a job site, and even carried up ladder or staircase to a rooftop work area.
Adjustable Span & Height
The top beam is secured to the supports by beam clamps, which can easily slide to fit any application.
The adjustable height ensures a single ergonomic lifting solution for low headroom areas, and wider lift range in other areas.
Collapsible for easy storage
Simple set up and break down allows the gantry to be collapsed and stored when not in use.
Options for the Aluminum Gantry Crane
Capacities up to 2 Ton
Standard Spans up to 20 feet
Height Under Boom: 6-12′
Top Running Trolley is included with unit
Ratchet Adjusted Height is an optional adder
Inflatable Pneumatic Wheels for Rough Surfaces is an optional adder
Overhead Gantry Crane Design
Overhead gantry crane design has remained relatively unchanged in recent years, however the materials and manufacturing processes have changed greatly and for the better.  Modern day cranes are being constructed in some of the most technologically advanced manufacturing facilities in the world. To speak with a sales representative about configuring a Gantry Crane for your application, or adding a Gantry Crane Hoist to your system, please contact us. Support@BeatonIndustrial.com – 800-724-4052.